Post by orion86 on Jun 13, 2023 20:20:03 GMT 1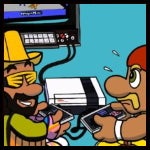 Hi , so after a one year of testing (May 2001 to May 2002) I got finally the new updates for these two 2001 mods : Goodnight and Goodbye??? v.2.2 (May 2001 with WCW and ECW still around) and InVasion v2.2 (The realworld May 2001) I used Fleisch's 2002 DB as a base, IS NOT A GENADI'S 2016 conversion. This will be the final update. More credits inside the file.
I hope like you.
[/B][/div]
NEW UPDATE:::: WCW Good Night & Goodbye??? May 2001 v2.2
[/CENTER][/div]
Hellooo!
Finally I took a break to update the 2001 alternative MOD, WCW and ECW still active by May 2001!
WCW:
Eric Bischoff managed to close the deal with Fusient Media Ventures in March 2001. Brian Bedol, founder of Fusient is the new owner of WCW, Bischoff returns to his role as President of WCW and in charge of the booking. Time Warner canceled Nitro, but Bischof was able to close his contract with FX (the true story according to Bischoff is that FX was interested in Nitro, but Bischoff offered them Thunder, FX did not want and the deal ended). the Big Bang live event will relaunch WCW to a new Era.
ECW:
He would celebrate his last event in January, after that Paul Heyman, would seek TV contracts for ECW, leaving Tommy Dreamer in charge of the business, however a couple of months later, Heyman accepted an offer from Vince McMahon to join WWF as color commentor, Heyman still owner of ECW, believes that his future will be better in WWF, and decides to sell to ECW. (ECW has no owner yet, and no TV Deal)
The Rosters are the ones that WCW and ECW had at the time of their last shows respectively, removing those fighters who signed new contracts with other companies until before May 2001. The titles, teams and stables are again active.
Is an alternative real world mod.Starts in May 2001 with WCW and ECW made active.
Credits and Thanks to:
Fleisch for his 2002 DB has a base.
gazwefc83 for his extra databases
Asaemon for his Broadcasters database
Taker's for his Narratives
ropacm for his Other TV shows database
Sockpuppet for is Injuries
Phil Parent for his Location and venues
Idolized for his iDOL's Stable Logos
NEW VERSION 2.2. UPDATED FEB20
DATABASE: Version 2.2 Johnal881
GRAPHICS: nGo Stickers pack
SKINS: WCW and Attitude By Steesh07
Thanks
[/quote]
Well I just realized I have had and been playing with the BETA version of the Goodnight and Goodbye 2001 mod for over the last year!
Just found the V2.2 today by accident